Professional wedding photographer in Spain. Costa Blanca - Torrevieja, La Zenia, Punta Prima, Campoamor, Alicante, Altea, Moraira, Calpe.
We have been established in Spain since 2006, but with every customer we have had since then we have created something new and unique, as we really love our job and feel that there is no limit to perfection. Every new project is one step forward, we try to be on the forefront and will keep working hard.
Wedding photographer in Spain - Costa Blanca - Villamartin
Wedding photographer in Alicante - Spain - Costa Blanca.
A wedding day is a very important event in a life of every person so it's very important to find a photographer who will capture the most precious moments of your day.
The preparation for the upcoming wedding is also very significant, such as a choice of venue.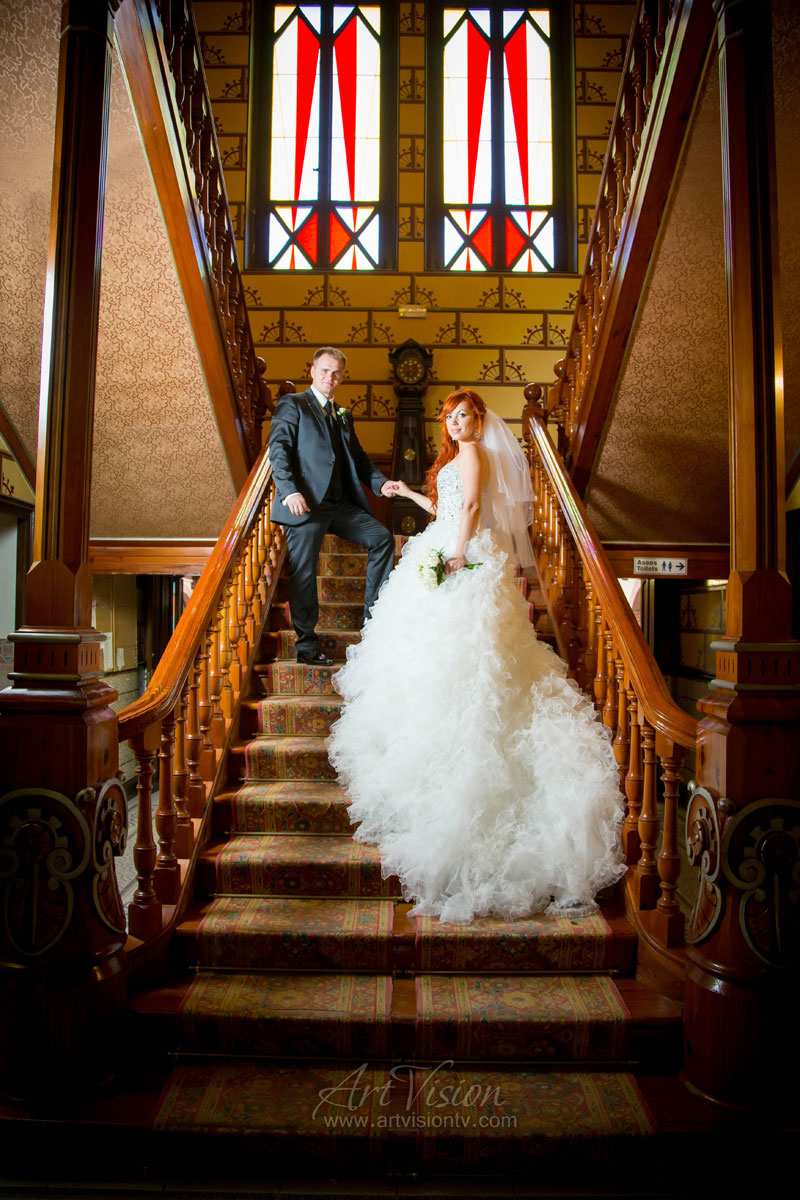 Professional Wedding Photographer in Costa Blanca - restaurant Casa de Reloj
In Spain, traditionally, in restaurants they serve the food first and after everyone finishes with the food, it's time to dance and enjoy the free bar. The traditions about the celebration of a wedding day might be different in England, but to avoid disappointment we advise you to try and book a place in advance. Our company will not only make your wedding photographs and video, we can also help organizing your event, renting a retro car or a limousine, introduce you to local musicians etc.
Photographer in Spain
One way of keeping the most precious moments of your day forever would be a photo-book (wedding album). We have a wide choice of albums, in sizes, covers, and quality, from something basic to luxurious.
Wedding album in Spain by professional photographer ArtVision
The printing finish can be on metallized, matte or standard paper, with silver/gold borders and your picture on the front page in metal framing. Almost every wedding photographer in Spain does a wedding album size 30x40, and every album is like a work of art. The design of the album is made by a professional designer who places selected photographs in harmonic order and adds design elements. On our website you can see a few examples of wedding albums we offer.
Wedding photographer in Spain
Our company can go to any city of Spain to make your photographs and videos, but we mainly work in Murcia and Alicante provinces. With us you will have a photographer, translator, guide and driver, all done by 1 person. This way we can also make a professional HD 1080 video close to cinematographic quality.
Professional wedding photographer in La Zenia- Costa Blanca - Spain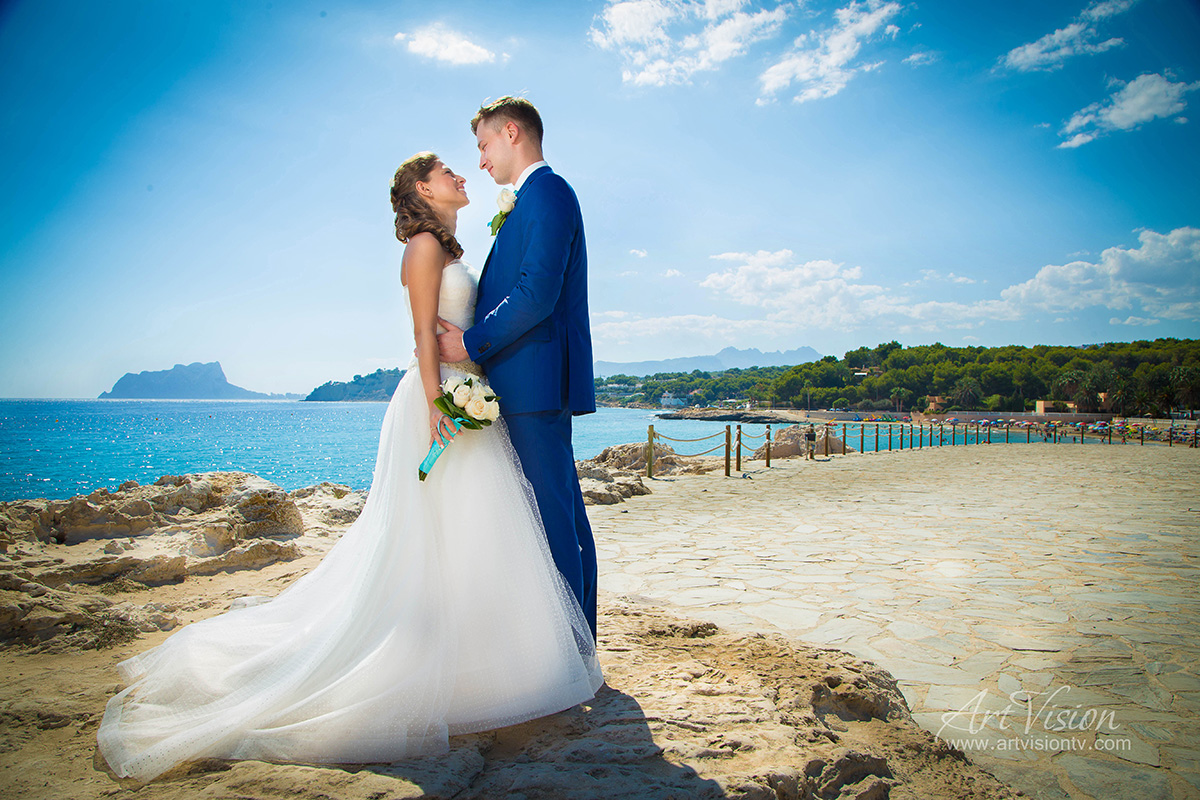 Wedding in Spain - Costa Blanca. Wedding photographer ArtVision
From the author: I work as a wedding photographer in Spain from year 2006 and I always meet with my customers before the event to discuss all the details about their big day - for example, how long they want the video to be, the style of the chosen venue etc. In the past the wedding videos were as long as 6 hours, and some people might not even know that is much easier to watch a 40 minute wedding video and have a 3 minute shorter version film to show to friends and family where ever you are or publish in social media.
In most weddings we use 2 cameras so not a single moment is missed, when one photographer is moving, the over one is still recording. This way we will have every moment of your wedding day on tape.


Photographer in Spain - Wedding Day in Spain
Your wedding day is very important not only for the newly weds, family and guests, but for the photographer also. At every wedding I have worked I was emotionally connected to my clients, it isn't just a working day for me. To make the photographs unique we try to find that special something for the newly weds. If they are here only for a few days, we would be happy to show them around.
Professional photographer works all over Spain, mainly on Costa Blanca - Torrevieja, La Zenia, Villamartin, Orihuela Costa, Punta Prima, Playa Flamenca, Guardamar de Segura, Alicante, Murcia, Cartagena, Orihuela, also in Marbella, Malaga, Madrid and Barcelona.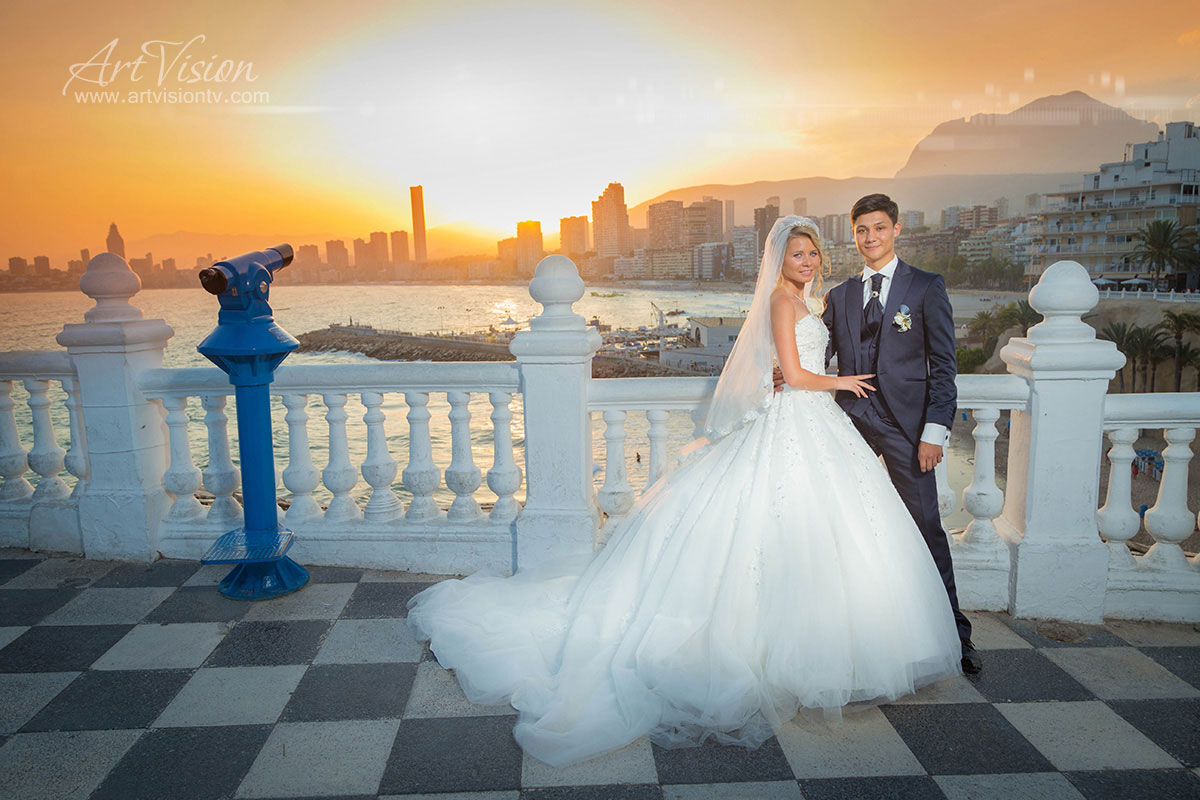 Beauteful Sunset in Benidorm. Weddin Photographer in Benidorm and Altea - Costa Blanca