Wedding photographer in Costa Blanca. Alicante, Altea, Benidorm, Calpe, San Pedro del Pinatar, Lo Pagan, Guardamar del Segura, Cartagena, Orihuela.
We would like to talk about the way they celebrate weddings in Spain and also describe the region we work in.


Your wedding day is one of the most important events in your lifetime. A good service of a professional photographer will guarantee that the most precious moments of your day will always be with you to show to family and friends and pass through generations.

If you come to Spain on holidays and would like to have a photo shoot, we can arrange that for you. We will show you the most beautiful places of our coast and will make your holidays memorable.
If you would prefer, we can go as far as Alicante or Murcia to take photographs in new and unusual surroundings. We can also do a lovely video of your holidays. One of the best places to do this is on the coast, on the beach - White Coast (Costa Blanc in Spanish) is well known for its beautiful beaches.

Photographer in Spain Altea
There is a very well known castle in our region called Santa Barbara and it is situated in the city of Alicante. The castle got its name after the victory of Prince Alfonso over the Arabs. This happened on December 4th 1248.

In 1296 there was another attempt to conquer the castle, but Nicolas Paris with a small group of soldiers fought bravely for it.
They all died in the event, but when the body of Nicolas was found he was holding the keys from the main entrance to the castle in his hand.
Since then, the coat of arms of the castle has an image of an hand holding the keys, symbolising resilience and courage of its defenders.
The castle is situated 166 metres above sea level and can be seen from any point in the city. At the moment the castle opens every day and it became a museum also: you can find different art exhibitions there, photographs, concerts etc.

Without a doubt it is one of the best places for a photo shoot in Alicante.

Photographer in Alicante, Spain, Santa Barbara Among the places that are worth visiting in Alicante are its seaside and port. You will find a number of souvenir shops here, bars and restaurants to suit all tastes.
There are a big choice of yachts to hire and buy. In the summer you can ride on a small water taxi.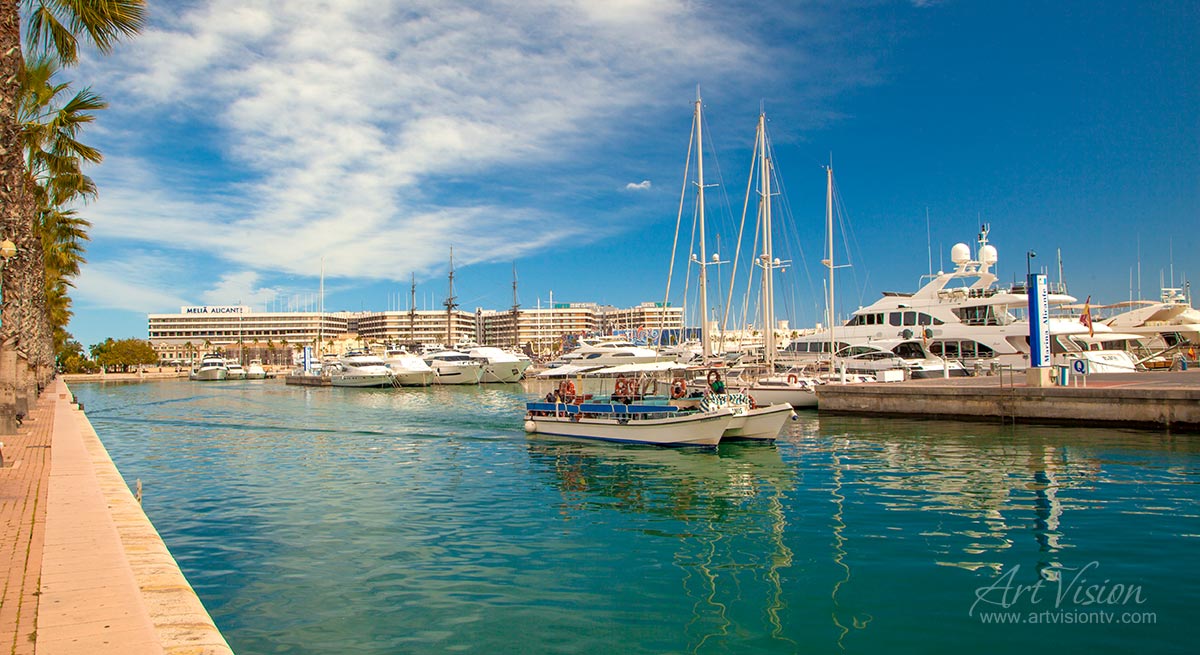 Photographer in Spain-Costa Blanca-Alicante
Nearby you can also find various Casinos, bars, restaurants, clubs, Cinema and shops.
Using our photographer services, you can take back with you a photo album of your best holiday moments spent on Costa Blanca.
Your wedding in Spain will be captured with our quality modern equipment. It can be a quick shooting among family and friends, or on bigger scale, for example, to go around the city etc. Our service "Wedding in Spain" can be hired for a very reasonable cost.
Wedding photographer in Torrevieja - Spain.
Our Spanish coast is very diverse, with its dunes, cliffs, deserted lagoons, long sandy beaches, salt lakes with flamingos, parks, hiking trails etc. All these open up an opportunity to explore the nature and to fill up your photo album with new photographs.

Photographer in Alicante, photographer in Murcia, photographer in Torrevieja, photographer in Costa Blanca

Wedding in Alicante, this couple have chosen Santa Barbara?s Castle for their wedding photo shoot.
This photo shoot took place in El Palmeral Park in Alicante. This park is a perfect location for an open air photo shoot. There is a waterfall here, as well as 2 lovely bridges and nice stairs. You can also hire a boat here.


Old town of Cartagena can also be perfect for a wedding photo shoot.



Up to now we have worked with a few weddings in the beautiful city of Barcelona, which is without a doubt one of our favourite cities to work in.

Please always contact us in advance if your wedding will be celebrated there as we will have to arrange transport for at least 3 people (photographer and assistants) and we would be happy to provide a quotation for you.



Evening seaside photo shoot in Benidorm.


San Pedro del Pinatar. One of the best venues in the area is a restaurant called Casa del Reloj situated in the area of San Pedro city.