Wedding photographer in Spain - Costa Blanca. Torrevieja, Alicante, Altea, La Zenia, Punta Prima, Cabo Roig, Villamartin.
Wedding photographer in Moraira-Spain (Costa Blanca)
As a international wedding photographer, I have visited many places in the region of the Costa Blanca, this wedding was in Calpe and Moraira - two cities nearby on the north of Costa Blanca. At the end of the summer we worked with a stunning couple in a beautiful area of Moraira. The shoot started with the bride getting ready, Dasha was looking beautiful.
When our beautiful bride was ready, the groom, Maxim, arrived. This couple was really easy to work with.
The set up for the ceremony was decorated in Tiffany's style
Arch with fresh flowers, rings on a little stylish bouquet, guest book-everything was made in light turquoise colour, in Tiffany?s style.
First location for a photo shoot was a little fortress called Penon de Ifach, that was built during the reign of Philip II. The construction has a semi-circular shape which resembles a bull 's hoof and has a southern orientation. At one time, a fortress was protecting the population from Berber's attacks.
The wall height is 10 meters and provides good protection for the embrasures, armament was of 7 cannons. At the entrance to the castle, we made a couple of shots.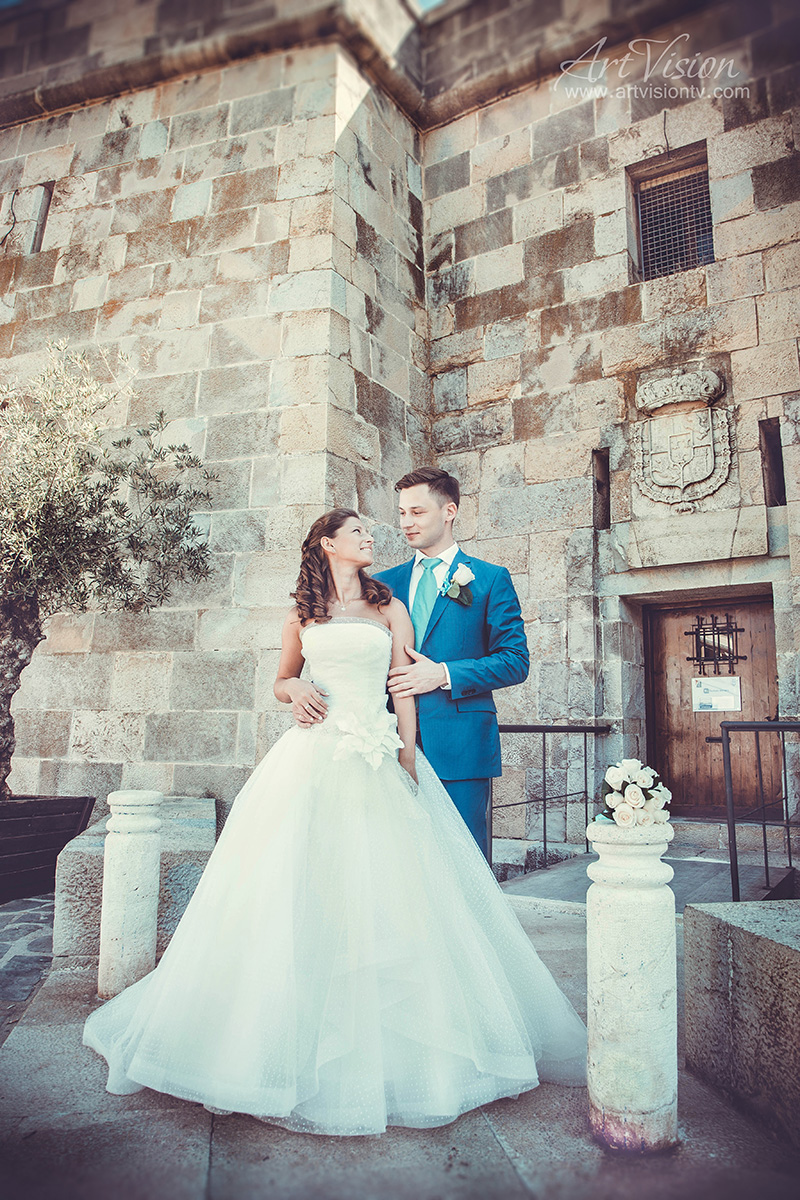 Then we went to the right side of the cliff and continued our photo shoot, with a beautiful landscape of the island of Ifach in the background and the sea- it was the perfect place for the next shot.
Despite the fact that it was midday and the sun was blinding and hot, the couple was determined to have fun and enjoy the process.To "fight" the sun it was necessary to use Remote flash at full power-and the result met all our expectations.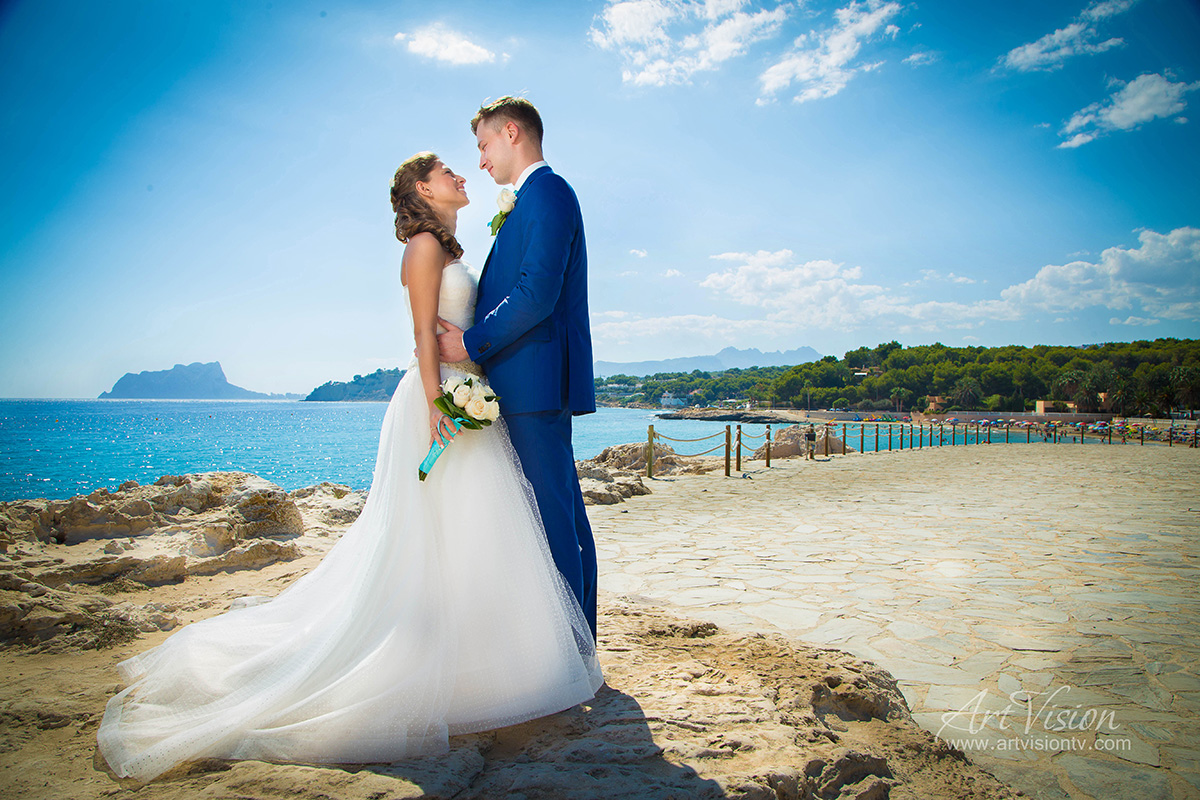 Next location was the beach, but most of the beaches in Spain are full in summer,
so we choose a place with more stones where it is inconvenient to bathe and sunbathe so they are normally more remote.
Photographers in Spain are always in search of shade, as the control of the image is more accurate, this way overexposures are avoided. As we walked further away, we found a perfect place where the shadows of the cliffs have created excellent shady spot.
This spot was perfect to continue the photo session in the open air-and here is a final result.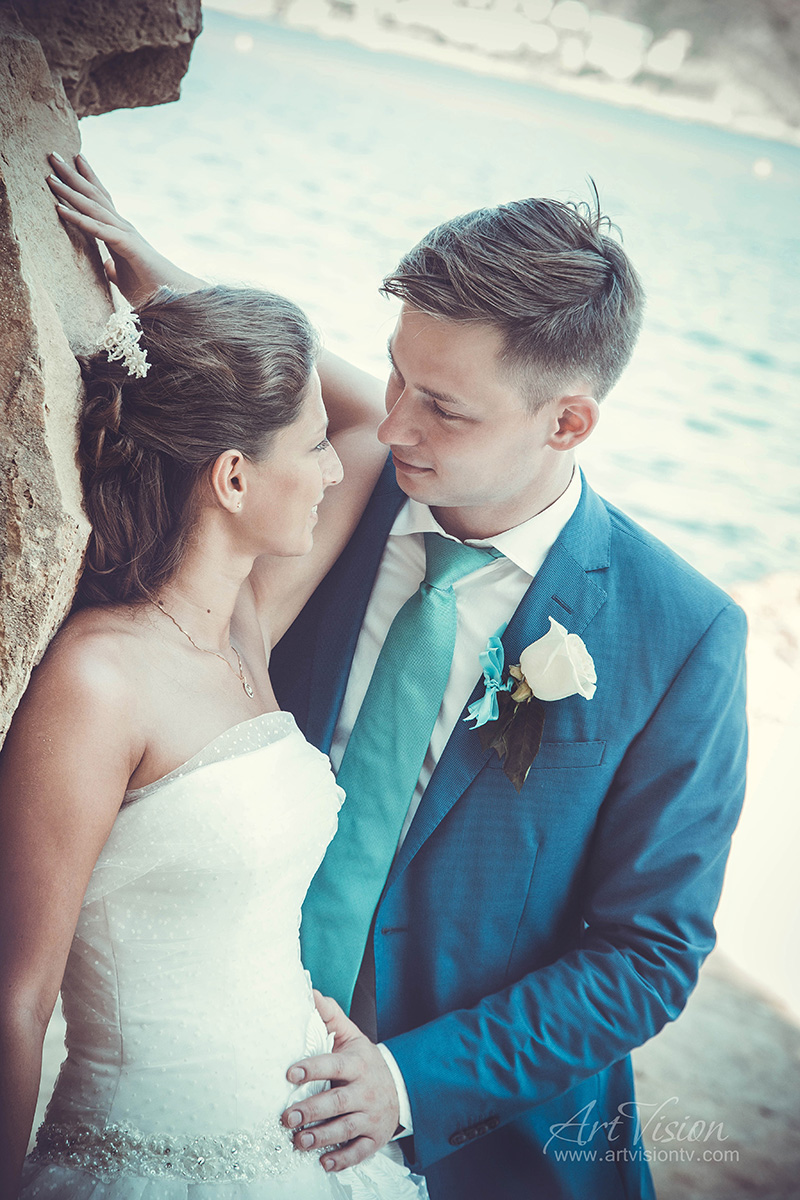 Wedding Photographer in Costa Blanca.

Torrevieja-Spain
Most of the weddings we work with are celebrated in Torrevieja, and that is where we are based.
At the end of summer we were filming a small wedding. The arch was installed on the beach, in front of the hotel where the wedding was celebrated.
Some photographs were made in the port with many boats and the sea in the background, a quiet romantic place.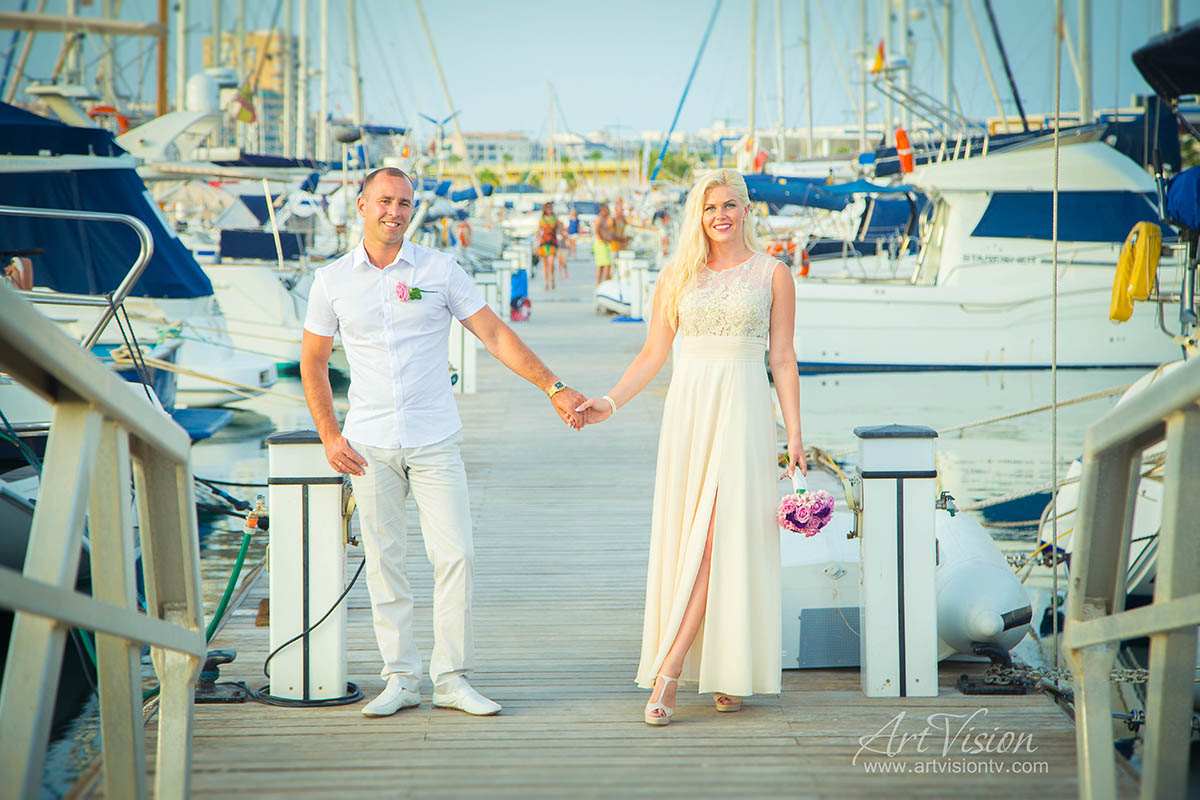 Next location for a photo shoot is a rocky beach, the sand beaches in Spain are not an option as there are full of people. Seaside photo shoot is the most wanted for couples in Spain.
Beach wedding ceremony. Slightly non-standard scenario of this wedding day was done due to the fact that our ceremony was held on the beach. The only time when the beach is empty and there is enough natural sunlight is at sunset. Here is a result of what can be archived at sunset.
Wedding in Spain. Wedding photographer in Alicante.
Ivan and Marina?s Wedding. An unforgettable day. Ivan is a tour guide in various cities of Spain and he was kind enough to tell us many interesting things about our region.
The most interesting photos have turned out in Alicante, with its beautiful scenery.
Ivan y Marina
Fotos de boda Ivan y Marina
Wedding photographer in Cartagena
Wedding of a young Spanish couple.
The wedding took place in a small town - Cartagena, and was done according to most Spanish traditions. Couple arrived in cart with a horse. Romanctic and classic at the same time.
Rita y Humberto
Fotos de Boda Rita y Humberto, Cartagena, fotografo - ArtVision
Photographer in San Pedro del Pinatar
Very interesting and funny couple and a lovely wedding where Russian and Spanish traditions mixed up but everyone had a lot of fun.
Raul y Eugenia
Fotos de boda en San Pedro del Pinatar. Raul y Eugenia
Photographer in Torrevieja
Oksana and Vladimir are a lovely couple. They wanted a very romantic photo shoot. Tenderness, youth and love is the motto of this wedding.
Оксана и Вова
Фото со свадьбы в Торревьехе Оксана и Вова
Wedding Photographer in Torrevieja

"Love conquers all" - this is a slogan of this couple.
Natalia y Remigius
Фотографии со свадьбы Натальи и Ремигиуса
Fran and Katia are a young and fun couple. It was a pleasure to work with them.
Katy and fran
Wedding in Torrevieja Katy and Fran
Photographer in Calpe and Altea.
This couple do not live in Spain permanently, so we wanted to show them the most beautiful places on the coast and
to create unique photos that will capture their magical wedding forever.
Катя и Дима
Свадьба в Бенидорме Катя и Дима
Tiffany?s Style Wedding. Wedding Photographer in Cabo Roig.
It was a stylized Tiffany wedding and we are proud to say that we took a direct part in the organization of the wedding.
Юля и Александр
Свадьба в Кабо Роиге, Испания. Юля и Александр
Иван и Елена
Свадебные фотографии в Пиларе де Орадада, Сусина, Иван и Лена.
Guadalupe y Cristian
Guadalupe y Cristian boda en Sant Feliu de Guixols. Fotografo ArtVision
Дмитрий и Анна
Свадьба в Испании Дмитрий и Анна фотографии
Diana y Javier boda en Barcelona
Fotografo de Bodas en Barcelona. Diana y Javier
Photographer in Cartagena.

Spanish wedding of a very loving young people. Photo session of the groom took place in the same hotel where the celebration was held later in the day. When we were approaching the photo session place, it was raining heavily, but once we arrived, luckily for us, the sun came out.
The stormy sky above the sea crated a beautiful set for this shoot. You can also have a look at the Wedding album we have done for this couple.
Fotografo en Cartagena boda de Daniel y Vanessa
Fotografo en Cartagena boda de Daniel y Vanessa. Fotografias
Wedding photographer in Torrevieja
Very traditional Russian wedding of Anna and Maxim -
for the first time in Torrevieja an Orthodox wedding was held in the Catholic Church.
Аня и Максим. Свадьба в Торревьехе
Фотографии свадебного дня - Аня и Максим. Свадьба в Торревьехе
International Wedding photographer in Pilar de la Horadada Costa Blanca

Mixed wedding - Irina, the bride, is from Russia, and the groom, Gustavo, is Spanish.
Wedding photographer in Mazzaron

The wedding took place in the port of Mazarron, a place with extraordinary landscapes.
We especially liked the place called Ciudad Encantada where for centuries the wind has been carving beautiful stone sculptures.
The food has been served in Buffet style.
Fotografo de bodas en Mazarron
Fotografo de bodas en Mazarron
ArtVision Make-
All day wedding photography

Wedding Photography per hour

Wedding video

Outdoor photo sessions